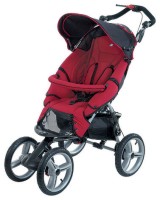 What do the French do better than anyone else? (If you're about to answer, "Run away," click. right. here.)
No, the answer is, they design and market strollers to dads better. Or at least they try to. Check out bebeconfort's launch site for La Kart: the paternal instinct. Taking a page from the car marketer's handbook, they pitch La Kart to dads (shouldn't it be Le Kart, then? Just asking.) like a new car, highlighting tech features like one-handed driving, limited slip brakes, and the Modulo Drive front wheel steering system.
The campaign's slogan: Fini la voiture pČpĖre, voici la voiture des nouveaux pĖres (rough translation: This is not your grandpa's Oldsmobile). [OK, A stroller for men, like a car. I get it.]
The main bebeconfort site even has a "For Men" section. Um, with intro text that looks like it's been run through Babelfish a few too many times:
Finished the subway, the job, the sleepy, poo, nanny and burp in one-sided, the fathers put of themselves the hard in the dough and it is not to displease the moms.

And question material, your end cabbage knows that he can count on you!
Uh-huh. I bet it really sounded convincing in French.
Two Left Feet (UK) has the Kart for £309.99 [update: not anymore they don't.]