<!form method="get" action="http://dt-go.com/cgi-bin/mt/mt-search.cgi"> <!input type="hidden" name="IncludeBlogs" value="3" /> <!input type="hidden" name="Template" value="daddy" /> <!input id="search" name="search" style="width: 270px; height: 15px;" /> <!input type="image" src="http://daddytypes.com/search.gif" height="18" width="159" border="0"> <!/form><!br />
Amazon's BPA-Free Baby Store, Now 33% BPA-Freer!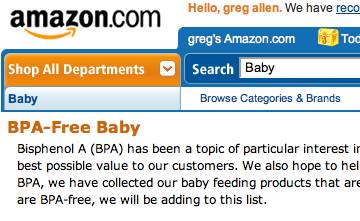 On Friday, Jeremiah at Z-Recs reported that Amazon had launched a BPA-Free Baby store--which included several products that were not, you know, actually BPA-free.
[Z-Recs knows from BPA; they have been building an exhaustive product list, cross-referenced with manufacturer information, of the BPA content of hundreds of baby products.]
Then yesterday, Amazon took down the store altogether. Today, though, it's back up, and expanded, and minus the toxic products Z-Recs flagged. It looks OK now, but Z-Recs asks tough questions about how much consumers can rely on retailers--including a major retailer like Amazon--to police products for safety and health risks.
Personally, before Z-Recs' list came along, I checked for BPA by looking to see whether Amazon would ship a product to Europe or Canada. If it contains BPA, it'd be listed as "Currently, item can be shipped only within the US." Like our Playtex Ventaire bottles here:

BPA-Free Baby at Amazon [amazon]
Amazon.com Launches "BPA-Free Baby" Shop: Buyer Beware [zrecs]
posted May 6, 2008 10:11 AM | add to del.icio.us | digg this
<!something is wrong with my adserver, so until I fix it, no ads>